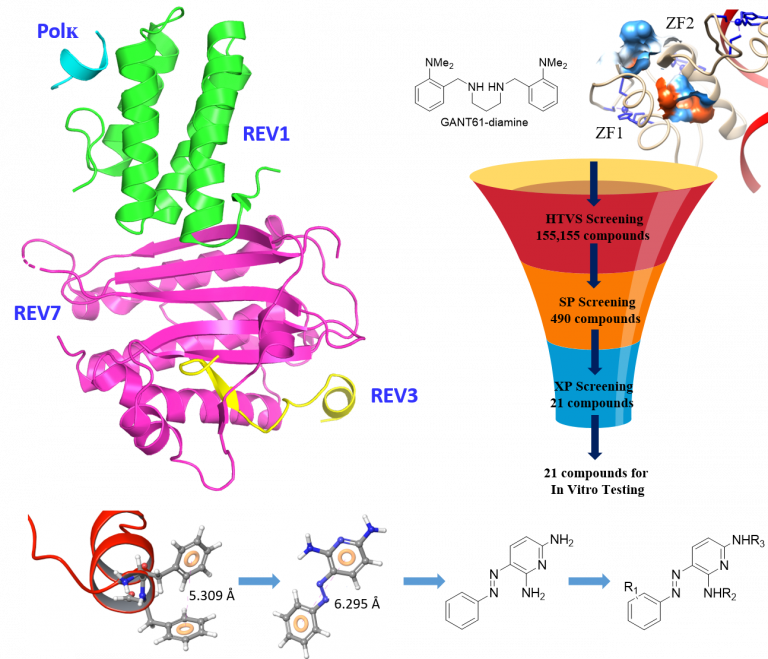 Recent News
4.8.2021 - Angela's manuscript on the structure-based design of TLS inhibitors is published in ChemMedChem.
4.5.2021 - Jiachen's review manuscript on the current state of medulloblastoma drugs is published in European Journal of Medicinal Chemistry.
3.26.2021 - Seema Patel receives a Goldwater Scholarship. Congratulations Seema!!!
3.15.2021 - Chris' review manuscript on the development of GLI inhibitors is published in Expert Opinion on Drug Discovery.
1.30.2021 - Seema's review manuscript on translesion synthesis inhibitors as cancer chemotherapeutics is published in Expert Opinion on Investigational Drugs.
About the Hadden Lab
The long-term goal of research in the Hadden lab is to utilize a medicinal chemistry/chemical biology approach to understand the mechanisms through which dysregulation of cellular signaling pathways contributes to the onset of human cancer and to apply this knowledge to develop improved therapeutics that target these pathways. To this end, we use a combination of organic synthesis and molecular biology techniques to prepare and evaluate small molecule modulators of these therapeutic targets. Major ongoing projects include the development of hedgehog/GLI1 modulators as therapeutic agents and the identification and development of small molecule inhibitors of translesion synthesis.
We are always interested in hearing from potential graduate students or postdoctoral researchers, especially those who have their own funding. Please contact Professor Hadden if you are interested in our research or want to discuss the possibility of open positions.
Contact Information
Phone:
860-486-8446
E-mail:
kyle.hadden@uconn.edu
Address:
69 N Eagleville Rd
Unit 3092
Storrs, CT 06269
Pharmacy & Biology Building
Office - PBB 628
Labs - PBB 510, 512, and 516